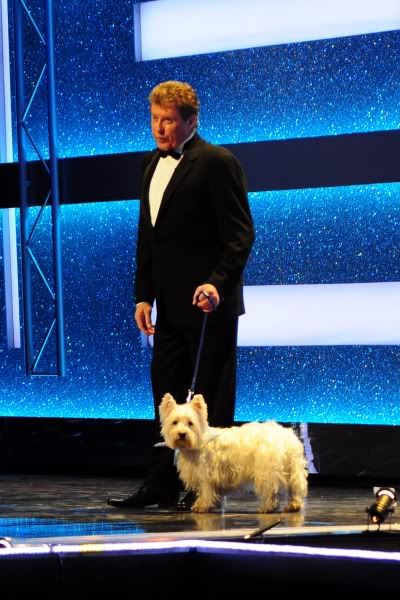 (10/11)
Michael attended the Phantom of the Opera 25th Anniversary Concert at the Royal Albert Hall in London.
You can pre-order the Concert DVD on Amazon.com.
(8/11)
Michael's contract with the Wizard of Oz has extended until February 5th, 2012.
(5/11)
The Wizard of Oz cast album out on May 9th.
Order at the official website @ http://www.wizardofozthemusical.com/

(4/11)
New interview with Michael and Danielle.
(3/11)

MCIFA.com posted a video of Michael's song "The Wonders of the World" on their main page.

The Wizard of Oz opened on March 1st.

Photos, Videos and Reviews from the show are posted on The Wizard of Oz Official Website @ http://www.wizardofozthemusical.com/

(2/11)

MC on BBC2 Radio.
Listen to the interview

Select 2:08 in the interview.

Review from the first preview.

Read Review
Previews started on February 7th.

New Photo of Michael as The Wizard.
View photo

New Article
(1/11)

Interview with Michael from the Daily Mail.

http://www.dailymail.co.uk/femail/article-1347273/Michael-Crawford-long-awaited-return-stage.html?ito=feeds-newsxml

(12/10)
Michael introduced Danielle Hope at the Royal Variety Show in London.

Click here for photos.

(10/10)

Michael attended the 10,000th performance of Phantom on October 23 at the matinee performance in London.


(9/10)
Michael is returning to the West End stage in Andrew Lloyd Webber's The Wizard of Oz as the Wizard in February 2011.
Q&A with Michael @ BroadwayWorld
http://www.broadwayworld.com/article/BWW_Exclusive_QA_Michael_Crawford_Talks_Return_to_the_Stage_20100924
(7/10)
Michael visited the SCT Houses this month in the UK.
http://www.communitynewswire.press.net/article.jsp?id=6933370
Interview with Michael
https://www.youtube.com/watch?v=t6syYgqbx94&feature=player_embedded
http://www.yorkshireeveningpost.co.uk/news/Actor-Michael-Crawford-visits-Leeds.6396132.jp
(2/10) Michael involved in new UK Charity Project.

http://www.thisisbath.co.uk/news/PM-WC/article-1840069-detail/article.html

(1/10) Phantom gets a Youtube Channel.
(12/09) Article about Michael's Foreword on New Children's Book.

http://www.broadwayworld.com/article/Michael_Crawford_Pens_Foreward_for_New_Childrens_Book_20091227

New Book will feature a special introduction by Michael.

Click on the link for more info.

http://www.thestar.co.uk/rotherham/Character-creations-are-brought-to.5934248.jp

(7/09) Michael visited the SCT in the UK recently.

Interview Video

http://www.yorkshireeveningpost.co.uk/video.aspx?VideoPath=LEED/michael%20crawford_jp_settings.wmv&VideoID=39245&ArticleID=5502175

Articles

http://broadwayworld.com/article/Tony_And_Olivier_Award_Winning_Star_Michael_Crawford_Lends_Storytelling_Talents_To_Boost_Spirits_Of_Sick_Childrens_Trust_Youngsters_20090729

http://www.yorkshireeveningpost.co.uk/news/Showbiz-star-visits-children-in.5502175.jp

You can view the video @

http://www.bbc.co.uk/looknorthyorkslincs/latest_stories/index.shtml

Michael is in the middle of the clip. Video is only online for a limited time.

(6/09)
My story about meeting Michael was published in my local newspaper. You can read the story at this link:

http://www.millercountyliberal.com/news/2009/0701/entertainment/054.html

(6/09)
You can view a Video Clip of the Signing at MCIFA.com's Front Page! Non-Members can view the video. The MCIFA signing was on June 14th, 2009 in Long Beach, CA.


(6/09)
Michael attended a special fan club event with MCIFA. Read my story. You can go to www.mcifa.com for more info.
(9/08)
Michael was apart of Andrew Lloyd Webber's 60th Birthday bash on September 14th. Michael couldn't be at the event, so he made a video message to Andrew. You can watch the video of his message at youtube.
(6/08) Footage from Hello Dolly with Michael is featured in the new Disney-Pixar movie, Wall-E! The songs include "It Only Takes A Moment" ,and "Put on your Sunday Clothes." The movie is now playing in theaters.