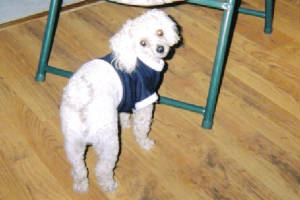 Hello all Humans and and Dogs outthere! My name is Louis. Of course you know that by now, don't you? I want to thank you for visiting my website and signing my guestbook. It means so much to me..
I am very thankful to have a human like my owner Lisa to build me a website like this.. I don't ask for much, Do I? Only thing I ask for is Food and Love. This is quite a honor for me to have a website!! I must be very popular on the world wide web.
I am a very kind dog, but don't make me mad.. Just ask Lisa and she'll tell you all about me when I am very mad. Most of the time, I am so very friendly.. Just don't mess with me when I'm in my den.. My special room with my Bed!!

It's My Bed!! GRRRR.... I'm a Little Angel!

I know you'll find this weird, but I love Cats.. My cat friends are Winn-Dixie , Miss Kitty, Tiny Tim , and Pearl.

My best friend Jasmine the Shelty dog passed away in January 2007. I miss her so much.. This page is in loving memory of her.
Thank you again for coming by!Please come again!
Dust your hands or paws when entering my website.. Woof!!!
Love and Hugs,
Louis